What is human trafficking?
Human trafficking is modern day slavery. It is the moving of a human being for the purpose of commercial exploitation. When a person is controlled, used, moved and in some way profited from, trafficking has occurred.
Human trafficking (both sex trafficking and trafficking for forced labor) is tied with the illegal arms industry as the 2nd largest criminal industry in the world today.
What is sex trafficking?
Sex trafficking is when a commercial sex act is induced by force, fraud or coercion OR when the person induced to perform the act is under 18 years old. A commercial sex act means any item of value is traded for any sexual service (prostitution, pornography or sexual performance).
Domestic minor sex trafficking (DMST) is the commercial sexual exploitation of American children within U.S. borders for monetary or other compensation (shelter, food, drugs, etc.). This is synonymous with child sex slavery, sex slavery, child sex trafficking, prostitution of children and commercial sexual exploitation of children (CSEC).
What is the difference between a trafficker and a pimp?
Nothing. A pimp is another name for a trafficker. A trafficker/pimp is any person who causes an adult (using force, fraud or coercion) or any minor to engage in commercial sex in order to profit from the exploitation of that individual.
How do traffickers lure their victims?
There are 3 main ways women and girls are trafficked:
• They are sold by a family member
• They are tricked
• They are kidnapped
Many pimps often use a "lover-boy" technique to recruit girls from middle and high schools. A lover-boy will present himself as a boyfriend and woo the girl with gifts, promises of fulfilled dreams, protection, adventure – whatever she perceives she is lacking. Traffickers use social media sites to recruit teenagers. After securing her love and loyalty, he will force her into prostitution.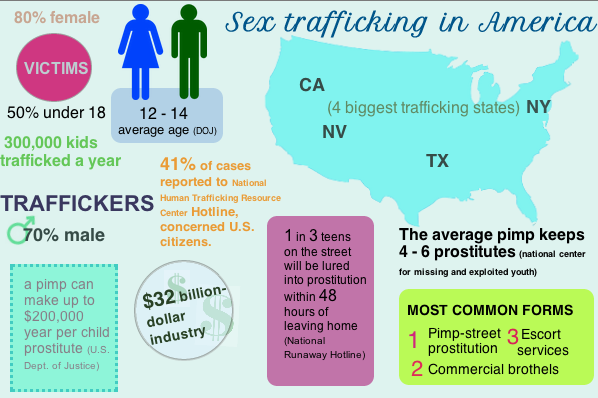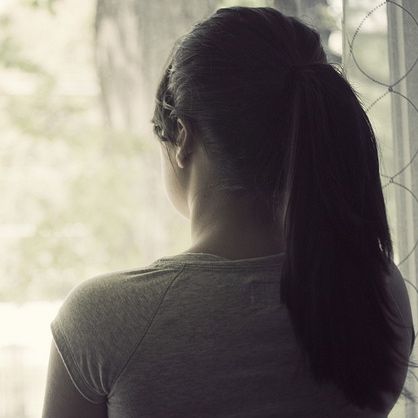 Why don't victims escape when they have the opportunity?
Traffickers and pimps use physical, emotional and psychological abuse to coerce young women and girls into a life of sex trafficking. Traffickers are master manipulators and employ tactics to create trauma bonds with victims. Traffickers often use the threat of violence against victims or victim's loved ones to secure their submission.
How can I identify a trafficker?
Pimps/traffickers often exhibit the following behaviors or characteristics:
• Jealous, controlling and violent
• Significantly older than female companions
• Promise things that seem too good to be true
• Encourage victims to engage in illegal activities to achieve their goals and dreams
• Buys expensive gifts or owns expensive items
• Is vague about his/her profession
• Pushy or demanding about sex
• Encourages inappropriate sexual behavior
• Makes the victim feel responsible for his/her financial stability
How can I identify a victim?
Warning signs that an individual is being trafficked:
• Signs of physical abuse such as burn marks, bruises or cuts
• Unexplained absences from class
• Less appropriately dressed than before
• Sexualized behavior
• Overly tired in class
• Withdrawn, depressed, distracted or checked out
• Brags about making or having lots of money
• Displays expensive clothes, accessories or shoes
• New tattoo (Tattoos are often used by pimps as a way to brand victims. Tattoos of a name, symbol of money or barcode could indicate trafficking.)
• Older boyfriend or new friends with a different lifestyle
• Talks about wild parties or invites other students to attend parties
• Shows signs of gang affiliation (ie: a preference for specific colors, notebook doodles of gang symbols, etc.)
How can I help fight human trafficking?
Every victimized and vulnerable person deserves to be surrounded by an alert community, trained professionals, strong laws and policies, and shelter and service options.
Here are ways you can help:
Pray
Don't ever underestimate the power of prayer. Prayer changes things that are seen and unseen. You can make a profound impact through taking time to pray. Here are some areas to target:
• Pray for the rescue of those trapped in trafficking.
• Pray that God will keep organizations helping victims safe and the victims safe.
• Pray for the victim's total healing – body, mind and soul.
• Pray that the demand would end. 
• Pray for justice for every victim.
• Ask God how you can fight on behalf of the oppressed and encourage others to do the same. 
Educate Yourself
In order to fight injustice, you must understand it. There is a great deal of information available for you to learn more about human trafficking. Begin researching the topic. With a working knowledge on the subject, you will be equipped to raise awareness and make a lasting difference.
Share Your Knowledge
Combatting injustice is not a one man fight. It requires a team effort. No one can win this fight on their own. Tell others about what you know, and together we can take action to be the change we want to see in our world.
Shop Beautiful Butterfly
When you shop Beautiful Butterfly, every purchase you make is an investment in freedom. Proceeds benefit organizations in the trenches combatting human trafficking and sexual abuse. In addition, the items you purchase spread a message of love and encouragement to those around you, helping to boost self esteem and prevent trafficking before it starts. When you shine, you give those around you permission to do the same.
Shop Now
Report
Always pay attention to what's going on around you. Use the information below to report suspicious activity.